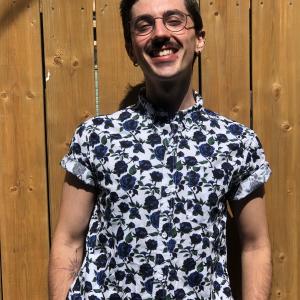 Daniel Cardoso
Daniel Cardoso is a emerging printmaking artist based in Toronto who graduated in 2020 from OCAD University with a BFA. His artwork focuses on creating visual narratives and iconographies hidden in intricate patterns as a means of disseminating his past. The use of patterning comes from a strong connection to Portuguese tile work ("Azulejos"), and how the traditional narratives present in them fit into his life in a Canadian context. Daniel's goal is to combine the visual patterns of this traditional medium with themes of queerness, trauma, mental health, and identity in contemporary print work.
Daniel's work explores visual language via patterned print work. The reproductive capability of printmaking allows him to create large scale installations that overtake a space to bring viewers into his world. The ability to make an edition allows him to produce small sized prints, interconnecting them into larger works. Using creative problem solving and patterning, the seams of each print blend together to create one unique piece.
Daniel's preferred medium is reductive linocut. It is a relief printmaking method that utilizes one block to print multiple layers, carving away at each subsequent layer as you print. Consequently, this makes the process unforgiving, but that is what brings nuances into the print to create individualized pieces that are then assembled together.
---
Coffees per day and from where
I'll drink 2 -3 coffees per day. I like making them at home or shopping from the local coffee shops near me!
How long have you been creating art?
Ever since I could pick up a pencil, I have been creating. There are pictures of me as young as 4 years old with a pad of paper and a pencil, drawing to my hearts content. That hasn't changed to this day!
When I'm not making art, I'm (a) ...
cooking or eating.
Favourite medium
Printmaking - its all about the process!
Describe your home in 3 words
Cozy, welcoming, cluttered! I have way too many art supplies and not enough space.
Upcoming Exhibitions
October 1st - November 21st, 2020
What do you mean, "try"?
Try-before-you-buy with a 3 month rental. 100% of your rental payments go towards the purchase (interest free). Message the artist directly, and start the conversation.
---
Art made (truly) affordable
We make it easy for you to try art with smart payment plans and try-before-you-buy models.
See How It Works
---
You're covered.
Artwork protection is included on all art rentals up to $10K. Our Customer Care team is always here to help.
Contact Us
---
Unlock Trade Access
For industries including interior design, film/TV production, & real estate staging: rent original pieces that fit with your project vision, budget and timeline.
Apply for Trade Access
---
1% from every transaction goes towards a Canadian arts nonprofit.